The Foxhound Inn
Main Menu
The Foxhound Inn is a great place for a meal, with everything on the menu prepared from locally sourced ingredients wherever possible. Amongst the starters you'll find home-made soup and pâté, or why not try our creamy mussels as a starter.
Main courses include delicious steaks, sourced as locally as possible, fish dishes which are also very popular and vegetarian options are also available. If there is a vegetarian option which is not on the main menu please do not hesitate to ask and we will be only too pleased to prepare something else if we have the ingredients to hand. We also cater for coeliacs.
We have a lovely "Specials Board" which changes daily, and includes not only our popular Belly Pork but something for everyone's taste at reasonable prices. Seasonal favourites are available too like pigeon, pheasant and game pie in the winter and lovely salads or pint-o-prawns in the warmer months.
And don't miss out on the desserts which include old favourites such as Treacle Tart, Bread and Butter Pudding and Spotted Dick, as well as a choice of Langage Farm ice creams and sorbets. We have ever changing guest ice creams together with Chef's Homemade Dessert of the Day.

*All prices correct at the time of printing although subject to change
Takeaway Food Now Available!
Beat the supermarket panic and have delicious, freshly cooked meals from our full range of menus
12pm till 2pm every lunchtime
6pm till 8pm every evening,
Collection preferred, Bring own Carry bags
Home delivery possible, Brixton Village Only
Please call 01752 880271 to enquire
Payments can be taken over the phone
Please order from our Main Menu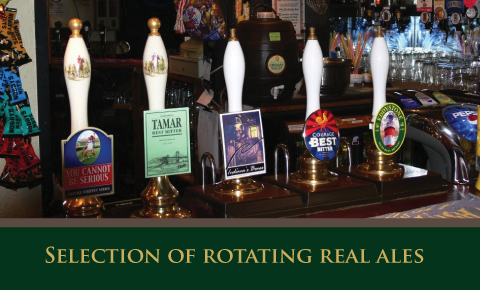 UPCOMING EVENTS
7PM START - £2 PER PERSON MAXIMUM 4 IN A TEAM
CALL TO RESERVE YOUR SPOT
CHRISTMAS PARTY MENU AND PENSIONERS CHRISTMAS LUNCH MENU ARE BOTH AVAILABLE ONLINE
SUNDAY ROAST - between 12 noon and 2.30 pm with a choice of Topside of Beef, Loin of Pork or Leg of Lamb with all the trimmings
***
TAKEAWAY MENU STILL AVAILABLE
***
Call NOW to book your table 01752 880271
*** We have experience a few "NO SHOWS" on bookings and due to our limited seating we will only keep your table for 20 minutes from your booking time - if you are running late please let us know on 01752 880271 - SUPPORT YOUR LOCAL
ANNOUNCEMENTS
BAR OPENING TIMES
Monday - Thurday 11am til 11pm
Friday & Saturday 11am til Midnight
Sunday 12 noon til 11pm
***
KITCHEN OPENING TIMES
Lunchtimes Every Day 12 noon til 2pm
OAP LUNCHES AVAILABLE MONDAY - FRIDAY
Evenings Sunday - Thursday 6pm til 8pm
Friday & Saturday 6pm til 9pm
***
IF YOU HAVE ANY QUESTIONS PLEASE CALL 01752 880271
***