Welcome to the Foxhound Inn
Award Winning Traditional Country Inn, near Plymouth, in the heart of Devon
Please click HERE for our NEW Pizza Menu
Steve & Sharon would like to welcome you to their traditional village inn and hope you enjoy your experience.
Established as a pub in the late 1700s, The Foxhound Inn has been offering a warm welcome and friendly hospitality to locals and visitors alike, ever since. It sits beside the A379 Plymouth to Kingsbridge road, about 3 miles east of Plymouth. Click here to find us. The interior is delightfully comfortable and cosy with traditional features such as exposed beams and open fires.
We provide only the best quality food, locally sourced where possible, all freshly cooked on the premises.
We source our meat as locally as possible and our Meat is supplied by Countrymans Butchers (distance 7.8 mile) Ivybridge. Vegetables are supplied by Westcountry Fruit & Vegetables (distance 29.8 miles) who are based in Newton Abbot. Fish is supplied by Moby Nicks, (distance 5.1 miles) based on The Barbican, Plymouth as are the mussels and clams which are sourced as locally as possible. Ice Creams are supplied by Langage Farm Dairy, (distance 4.7 miles) Plympton.
We believe that the Foxhound Inn is one of the BEST establishments for locally sourced food with regards to FOOD MILES in the area!
Open for meals seven days a week, lunchtimes and evenings.
All our meals are prepared and cooked to order; your patience at busy times is appreciated.
Planning a Party? Why not choose the Foxhound Inn and ask our staff for details of our buffet menus available.
Steve & Sharon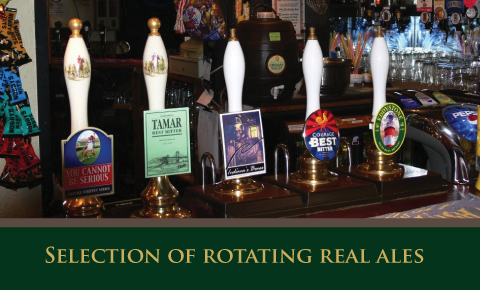 UPCOMING EVENTS
7PM START - £2 PER PERSON MAXIMUM 4 IN A TEAM
CALL TO RESERVE YOUR SPOT
CHRISTMAS PARTY MENU AND PENSIONERS CHRISTMAS LUNCH MENU ARE BOTH AVAILABLE ONLINE
SUNDAY ROAST - between 12 noon and 2.30 pm with a choice of Topside of Beef, Loin of Pork or Leg of Lamb with all the trimmings
***
TAKEAWAY MENU STILL AVAILABLE
***
Call NOW to book your table 01752 880271
*** We have experience a few "NO SHOWS" on bookings and due to our limited seating we will only keep your table for 20 minutes from your booking time - if you are running late please let us know on 01752 880271 - SUPPORT YOUR LOCAL
ANNOUNCEMENTS
BAR OPENING TIMES
Monday - Thurday 11am til 11pm
Friday & Saturday 11am til Midnight
Sunday 12 noon til 11pm
***
KITCHEN OPENING TIMES
Lunchtimes Every Day 12 noon til 2pm
OAP LUNCHES AVAILABLE MONDAY - FRIDAY
Evenings Sunday - Thursday 6pm til 8pm
Friday & Saturday 6pm til 9pm
***
IF YOU HAVE ANY QUESTIONS PLEASE CALL 01752 880271
***