Drinks at the Foxhound Inn
Our public bar is a very friendly place with old photographs of Brixton in years gone by in our 'Memory Corner' featured on the walls for all to see. We are proud to announce that the Foxhound Inn has been voted Plymouth CAMRA Country Pub of the Year for the third consecutive year, for 2013, together with taking the overall title for Pub of the Year 2012.
Steve takes great pride in maintaining his ales in prime condition, sales have soared since he arrived. There are 5 rotating real ales, including ales from our local breweries such as Summerskills Brewery, and South Hams Brewery and old favourites such as Otter Amber and Courage Best. We also have a Guest Cider or Perry available on tap which is constantly changing.
Redcoat
Steve has been brewing his own ale with help and guidance of Norm, Owner/Head Brewer at Summerskills Brewery, located a couple of miles away from The Foxhound Inn since 2012. At 4.5%, it is an easy drinking amber coloured beer with the sweetness of the crystal malt balanced perfectly by the blend of bittering hops, with a refreshing finish and moreish aftertaste.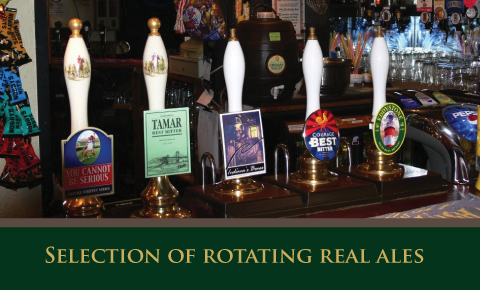 UPCOMING EVENTS
7PM START - £2 PER PERSON MAXIMUM 4 IN A TEAM
CALL TO RESERVE YOUR SPOT
CHRISTMAS PARTY MENU AND PENSIONERS CHRISTMAS LUNCH MENU ARE BOTH AVAILABLE ONLINE
SUNDAY ROAST - between 12 noon and 2.30 pm with a choice of Topside of Beef, Loin of Pork or Leg of Lamb with all the trimmings
***
TAKEAWAY MENU STILL AVAILABLE
***
Call NOW to book your table 01752 880271
*** We have experience a few "NO SHOWS" on bookings and due to our limited seating we will only keep your table for 20 minutes from your booking time - if you are running late please let us know on 01752 880271 - SUPPORT YOUR LOCAL
ANNOUNCEMENTS
BAR OPENING TIMES
Monday - Thurday 11am til 11pm
Friday & Saturday 11am til Midnight
Sunday 12 noon til 11pm
***
KITCHEN OPENING TIMES
Lunchtimes Every Day 12 noon til 2pm
OAP LUNCHES AVAILABLE MONDAY - FRIDAY
Evenings Sunday - Thursday 6pm til 8pm
Friday & Saturday 6pm til 9pm
***
IF YOU HAVE ANY QUESTIONS PLEASE CALL 01752 880271
***